Our numbers remain on a steady incline as the year goes on. With summer ending and school starting back up again, we are seeing some improvements in the market.
We are still experiencing a great amount of uncertainty, however, with the pandemic still disrupting our industry. That being said, we are taking the positive numbers that we are seeing this month as a huge win and encouragement to keep progressing.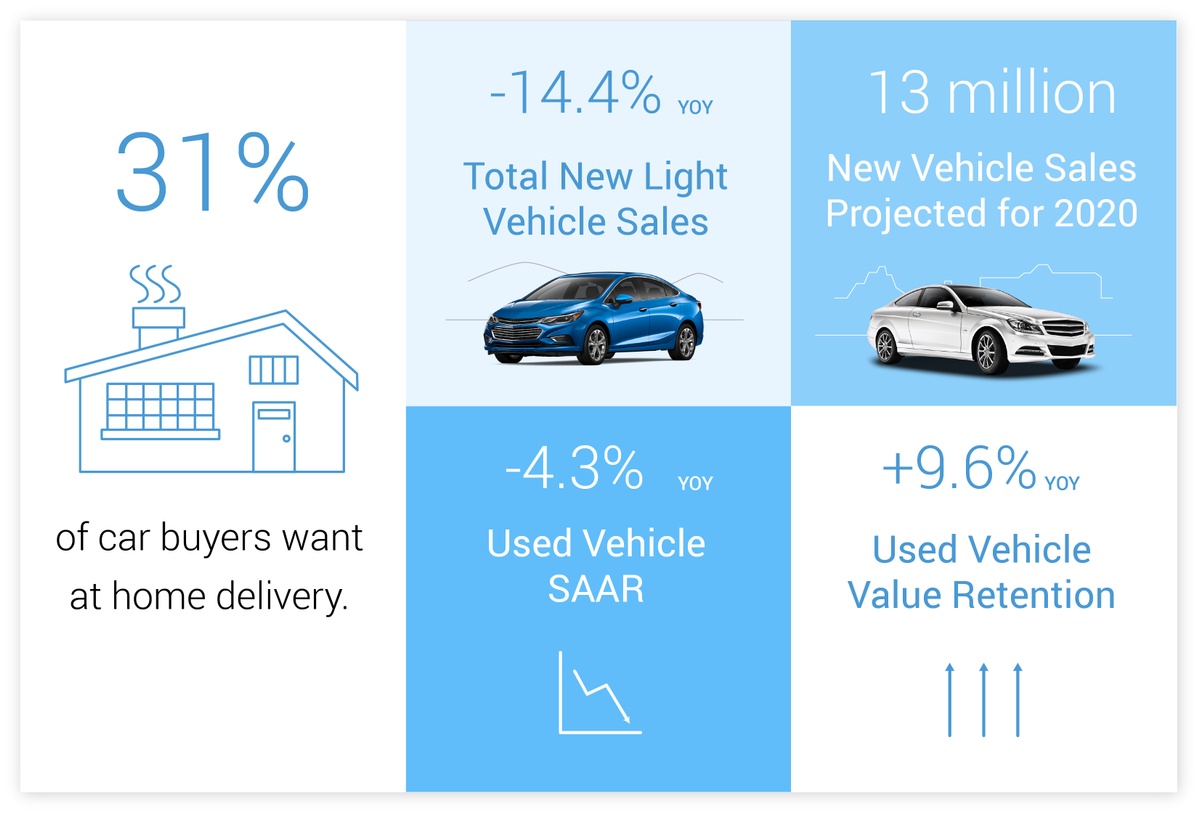 Total New Light Vehicle Sales
We saw 14 million units sold this month, bringing us to an 11% increase from June. In comparison to last year's sales, we are still down 14.4%, but each month we are slowly coming back.
New vehicle inventory is still playing the catch-up game. The demand is high, but with COVID-19 slowing the production of new vehicles, it has become harder to fill auction lanes with inventory.
New Vehicle Sales Projection
We have yet to see any changes in this number over the past few months. Uncertainty in the market place due to COVID-19 continues to make it difficult to make any kind of prediction.
Thus, NADA's number remains between 13 million and 13.5 million.
Used Vehicle Value Retention
Our numbers were remarkably positive this month. Last month we saw everything begin to level out, but this month we saw a significant increase in value retention.
Black Book reported an increase year over year by 9.6% and, in comparison to June, the number increased by 9.5%. Despite last month's predictions that these numbers would not continue to rise. We are hoping these numbers will remain steady as the year goes on.
Used Vehicle SAAR
This month SAAR was at 38 million, an improvement of 5% from last month. As with the rest of the data, we have seen a steady increase over the past few months.
Year over year we are still down by 4.3%, but that number has recuperated every month.
At Home Delivery
According to Cars.com, 31% of car buyers want at home delivery of their vehicles. With the revolution of at-home-delivery from groceries to essentially anything you can find online, it seems to make sense that it extends to car purchases, especially to our post-COVID world.
The challenge is adopting the service to provide that to your customers. The article states in March 45% of dealers began offering that to their customers with that number only increasing to 67% in April.
As we are seeing no clear sign of quarantine relief from this pandemic, home delivery for your customers would be a great new option for your business. This will give your customers the safety through online shopping and convenience of not having to leave their house to get their car.