As predicted in our April industry review, we are starting to see some improvements as business adjusts to the new normal.
But, we aren't out of the woods yet. There is still a lot of necessary change that needs to happen in order for us to see sustained growth. Whether it be adopting online processes, or focusing on a safer experience for customers from the moment they arrive at your lot.
For May, we observed some of the data you see below as a step in the right direction.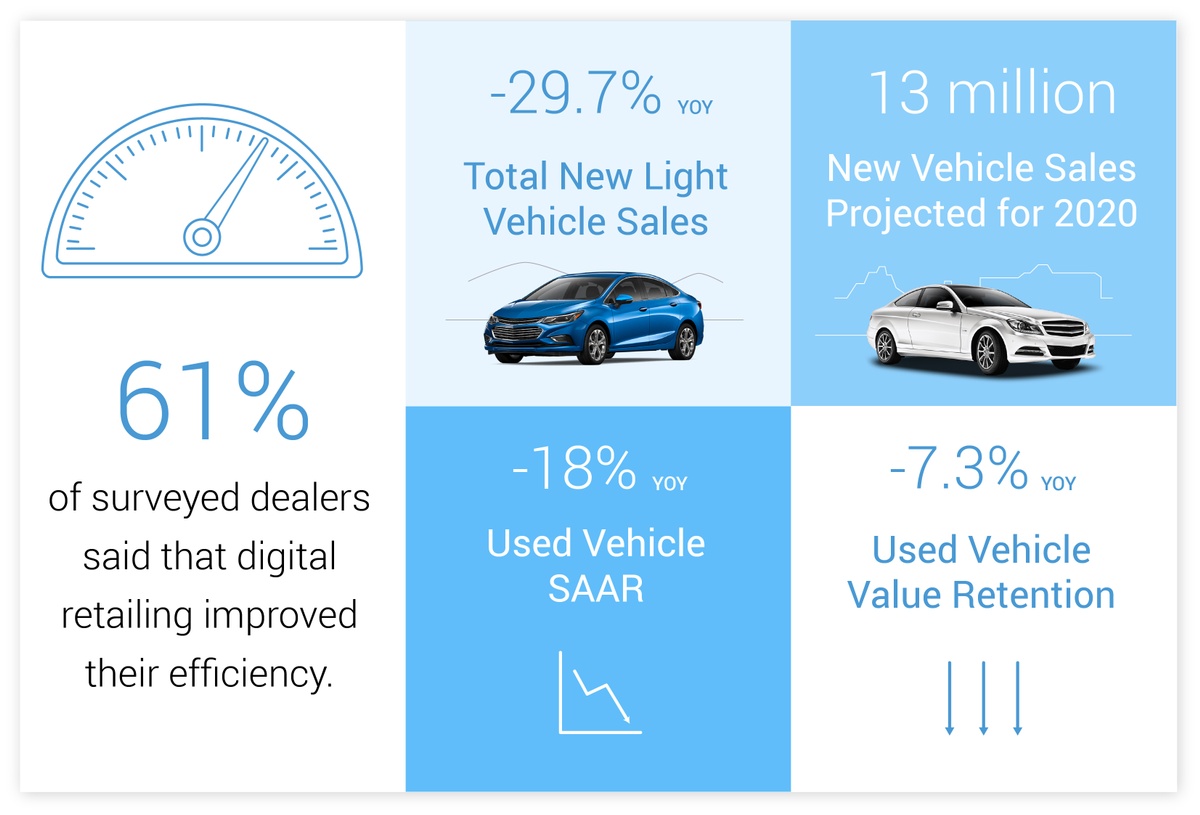 Total New Light Vehicle Sales
In comparison to May 2019, new vehicle SAAR went from 17.38 million to 12.21 million, a decrease of -29.7%.
Despite the decrease we saw year over year, this is an improvement from this April when SAAR was pacing at 8.73 million.
The effects from the pandemic took a toll on our industry in April. Many OEMs stopped all vehicle production to contribute to making hospital ventilators, decreasing the supply of new inventory on most lots.
We are unsure how quickly output will recover in the coming months. The diminishing supply of new car inventory will impact both sales and the supply of trades to fuel used car sales.
New Vehicle Sales Projection
We haven't seen much change in annual sales projection. NADA continues to predict around 13 million new light vehicles sold in 2020.
Although we are seeing signs of recovery, the uncertainty around new car production and COVID spikes has made it increasingly difficult to determine what will transpire.
Used Vehicle Value Retention
Black Book reported another decrease in used vehicle value retention. Although there are some data points that are starting to recover from April, value retention continued to drop in May.
Standing inventory at auctions is high, however, short staffing is restricting the flow in the auction lanes. This, coupled with diminishing new car sales, has increased the demand for used inventory, and should strengthen retention in the coming weeks.
Used Vehicle SAAR
According to Manheim, used vehicle SAAR was at 39 million last May in comparison to this year's 32 million, down -18%.
We are experiencing a promising increase this month versus last month. Most states have loosened their shelter-in-place orders making it easier for people to shop in person.
Digital Retailing
According to Forbes, in a survey they conducted, 61% of dealers claimed their salesroom efficiency improved through digital retailing.
Something we have learned through the pandemic is the importance of technology and being able to do everything remotely. Forbes author Jack R. Nerad states dealers switching to a completely remote customer experience is "transitioning from a 'nice-to-have' to a requirement."
Dealers who are finding new ways to connect with the customer are excelling in these challenging times. Whether that be investing in a third party retailing solution or providing at home delivery services, dealers who make these changes will be successful because they are giving their customers safer ways to shop.
Investing in some of these solutions may seem daunting at first, however, we have no indication of when things will turn around. We have to assume that this will not change in the near future, and as Nerad states, having an online experience is now a requirement.
Let us know if you would like help staying close to your customers while maintaining social distance. Click the link to schedule a demo today: https://get.theappraisallane.com/tal-dealers-request-a-demo