In the month of April we saw the aftermath of the March shelter-in-place orders and the closing of multiple factories and businesses.
As re-openings are being discussed in multiple states, and dealers are adapting to create a safer customer experience, we are optimistic that the coming months will bring better results.
In the meantime, here are a few data points we found to be relevant and useful: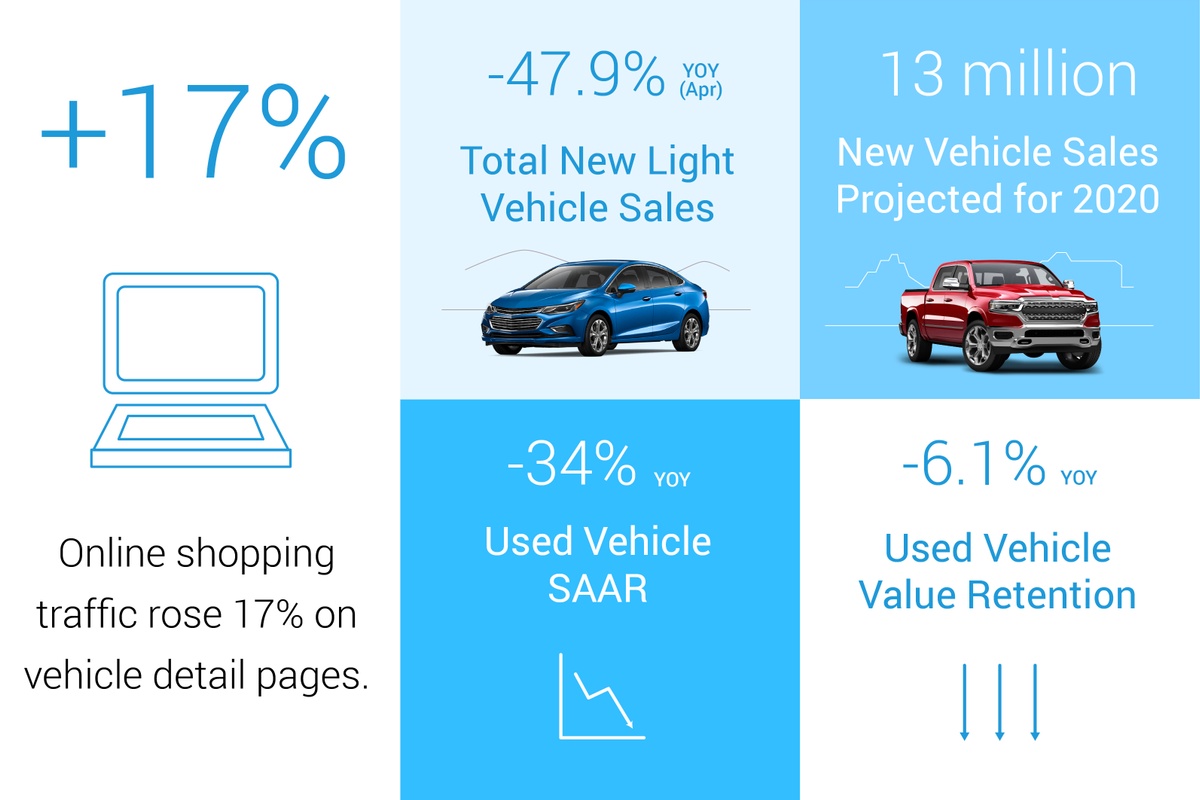 Total New Light Vehicle Sales
With shelter-in-place orders affecting many dealerships nationwide, combined with a down-trending economy, new vehicle sales have dropped lower than they have been in almost 40 years.
In April of last year we saw 16.5 million new vehicle sales. This year, we saw a decrease of -47.9% with around 8.6 million units sold.
As some states begin lifting their shelter-in-place orders, and others continue adjusting to new challenges, we are hopeful that there will be an upturn in sales next month.
New Vehicle Sales Projection
NADA predicts that we will have a total of approximately 13 million new vehicle sales by the end of 2020.
Over the past few months, the pandemic has greatly impacted new vehicle sales as well as the overall economy including manufacturing. Auto production factories have either halted completely or retooled to begin producing healthcare equipment to meet the current demand.
Millions of newly unemployed people are not currently in the market to buy a new vehicle. It is more likely today for people to be selling unnecessary vehicles to generate cash.
Industry experts are correlating this period to the market crash in 2008, and expect a drop in sales of around 26.6% in the US.
Used Vehicle Value Retention
Increases in sitting inventory, combined with a drop in sales for both new and used vehicles, have caused a -6.1% decrease in used vehicle wholesale value.
Black Book noted this is the lowest value retention they have seen since 2010 in the aftermath of the great recession, and the greatest single month drop since the creation of their Retention Index in 2005.
We are optimistic that the coming months will see an increase in value as the economy normalizes and businesses begin to reopen. Dealers with open lot space will likely take advantage of today's low vehicle values as they begin to restock their inventory.
Used Vehicle SAAR
Last year, used vehicle sales were around 39 million. This year, Manheim acknowledged a drop of 27 million vehicles (-34%) due to the current state of our economy and shelter-in-place orders.
Selling a used vehicle is increasingly difficult as consumers are less likely to travel to see a vehicle firsthand because of safety and sanitization concerns.
Used car dealers are hoping to see more positive results in the near future as more states loosen their shelter-in-place orders and allow more business to reopen.
Online Shopping Traffic
One positive takeaway is a rise in online shopping in the automotive space. According to Cox Automotive Weekly Insights, more people are visiting dealer websites, and page views on vehicle description pages have gone up by 17%.
People are looking for alternative ways to buy cars. We see this as a positive development, and a potential eye-opener for many dealers.
While many benchmarks are seeing sharp declines, online shopping is flourishing. Why? Not only is online shopping more convenient (as we have seen with in countless other industries), but it is now considered to be a safer alternative to shopping in person.
The best thing dealers can do at this time is to continue to adapt to new challenges. Find new ways to dispose of excess inventory, and invest in technology that can help you provide a safe remote shopping experience for your customers.
This is a great time to put more effort toward your website and your online trade-in process. Schedule a brief demo today to see how The Appraisal Lane can help you engage customers remotely:
Let us know if there is anything we can do to help your business in these challenging times. You can reach out to your current TAL rep any time, or give us a call at (888) 737-9909. We're always here to help.