There's no doubt that COVID-19 has had some negative impacts on our economy and our industry. But some positive outcomes have emerged as well.
Most importantly, the pandemic has demonstrated the need for businesses to pivot by serving customers more efficiently. Some dealers have reacted quickly to dramatic shifts in the market, making innovative changes to their internal and external processes.
Essentially, we are arriving at a new normal which is causing us to think in new ways. And that's a good thing. One great example of this new way of thinking is the community trade-in approach (sometimes referred to as a distributed auction).
How a
Distributed Auction
Works
Distributed auctions facilitate interactions between dealers, their customers, vehicle appraisers, and interested buyers, allowing them to collaborate in real time on live trade-ins.
Trade-ins are the most important part of the new car buying process, although they are also the most common source of confusion and frustration for both the buyer and the dealer. A distributed auction connects all involved parties via their mobile devices and/or web browsers.
Below is a simple diagram highlighting how the community is connected.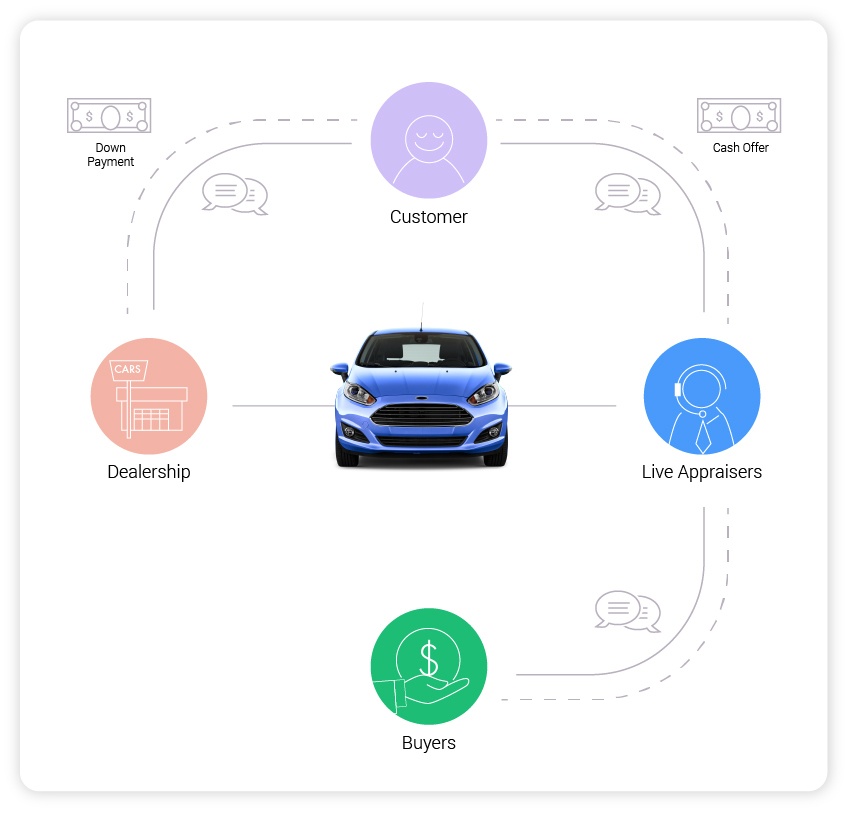 This community approach provides an exceptional experience for car buyers who need to know exactly what their trade is worth from the safety and convenience of their driveway. It helps dealers put the right number on trades and close more retail deals, while enabling them to quickly and easily dispose of trades they don't want or need.
A Simple 3-Step Process
The distributed auction approach works in three simple steps.
The customer submits pictures and condition information about their trade online, through their mobile device or a web plug-in at the dealer's website. The participating dealership/group, appraisers, and industry buyers have immediate live access.

The participating dealership/group communicates with appraisers in real time, and with the customer to discuss their trade and new car purchase. Appraisers evaluate the vehicle while communicating with interested buyers.

The customer receives a cash offer which can be used as a down payment towards their next purchase. The dealership/group can choose to keep the vehicle or sell it with the touch of a button. The dealer receives a check, and the vehicle is picked up and transported away.
How Connected Communities are Driving the New Normal
Distributed auctions provide dealers with instant access to interested buyers both inside and outside their immediate market area. This is especially important when they have no use for a particular trade, or need to eliminate auction disposition costs.
Every used car is as unique as the person driving it. Two vehicles with identical features and mileage can have vastly different pricing depending on the dealer who's taking them on trade, the market in which they're traded, how they were owned and driven, their VHRs, the time of year, etc. Involvement from live appraisers is critical, since algorithms can't and don't cover all the bases.
It's also true that a used car is only worth what someone is willing to pay for it. A community approach brings together consumers who have trades, dealers who want retail deals, and quality vehicles based on their inventory stocking plans, appraisers who understand the factors that impact value, and buyers who are willing to pay more for cars they really want.
The result? The right offers, backed by cash, with mitigated wholesale risk.
Finally, and most importantly, car buyers want a better and more convenient trade-in experience. Dealers and groups that provide this quick, easy, and convenient experience stand a better chance of capturing competitive market share, making more retail deals, and creating customers for life.